JO FENSTERMAKER SCOTTISH HIGHLANDS GOLF TOUR
APRIL/MAY/SEPT/OCTOBER 2021 | 6 NIGHTS | 3 ROUNDS | 1 GOLFER | 1 NON-GOLFER
JO FENSTERMAKER SCOTTISH HIGHLANDS GOLF TOUR
APRIL/MAY/SEPT/OCTOBER 2021 | 6 NIGHTS | 3 ROUNDS | 1 GOLFER | 1 NON-GOLFER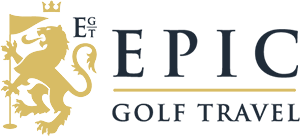 September 22, 2020
Hi Jo,
Many thanks for your inquiry, we would love to be your resource for all your golf travel needs!
Epic Golf Travel was founded over 25 years ago and our company partners are PGA Professionals who have over 75 years of golf industry and travel experience. We are members of the International Association of Golf Tour Operators (IAGTO), the leading international golf tourism organization, as well as the American Society of Travel Agents (ASTA). Our commitment is to deliver an exceptional golf travel experience... every client, every trip, every time.
Our approach is based on three guiding principles... exceptional service, unprecedented value for your dollar and a fantastic golf travel experience.
The attached schedule is based on 1 golfer and 1 non-golfer traveling and includes 6 nights accommodations, 3 rounds of golf, chauffeured transfers for the entirety of your trip and a Scottish breakfast daily. For the sake of this quote, I will assume you'll be flying into the Inverness Airport.
As you or your husband may be unfamiliar with Scotland and The Highlands specifically, please know that I have traveled there many times and I will make suggestions that are in your best interest and ones that hopefully, will only increase your enjoyment while you are there. I understand the trepidation that accompanies trips to unfamiliar locations and relying on the opinion of others to guide you.
I have given you pricing for the months of April, May, September and October. The weather is nice, crowds are slightly smaller and they are some of the more cost-effective months. You can certainly travel other months of the year, but I felt these were excellent options for you.
Your suggested lodging has you staying in a single guest room at The Glenmoriston Town House Hotel in Inverness. This is a 4 Star hotel and an excellent choices for your visit. It is situated on a tree-lined river bank terrace in the city center of Inverness.
Your suggested golf schedule has your husband playing three outstanding links courses... Castle Stuart Golf Links, Fortrose & Rosemarkie Golf Club and Moray Golf Club (Old). I've played each one and they are among the best links that The Highlands has to offer. More information on both your lodging and golf courses may be found below.
Regarding your transportation, I have quoted transfers for each day of your trip to Scotland. The driver will take you to and from the airport, your lodging and all golf courses. I have included a full 7 days of transfers, so even on days when golf is not scheduled, you will have the option to travel anywhere to sightsee, shop or visit.
Additionally, there are quite a few things to do after golf... sightseeing in the amazing Scottish Highlands with their lochs, rugged mountains and complete isolation, Cairngorms National Park, visiting Loch Ness and it's castle, Donan Castle, Inverness Castle, Dunrobin Castle, Cawdor Castle & Gardens, Fort George and there are some fantastic half day and day trips out of Inverness as well. Not to mention at least 8 whiskey distilleries in the Inverness area, including Glen Moray, Macallan and Glenmorangie. You'll find more details on things to do below.
And a final word about pricing, if I may...
We realize that price is part of the decision-making process for your trip. We want you to feel choosing us was a wise decision and that you received real value for your dollars spent. We feel one of the biggest parts of that value is the amount of time and method we use to plan your itinerary and execute your trip.
Unlike many others, we don't offer "instant" quotes and we don't use computers or software to build your trip. We feel that's lazy, impersonal and will never perfectly match your trip wishes. Instead, we take our time and use our industry knowledge and wealth of travel experience... along with paper, pen and phone to build the exact trip you're looking for. At the end of the day, it's not always about how much you spend on your golf vacation that's important, but HOW you spend your golf vacation that really counts.
Our prices INCLUDE ALL TAXES AND ANY RESORT OR LODGING FEES, there are no hidden costs of any kind.
Your monies are fully protected from any Coronavirus related issues. Your trip can be rescheduled with no penalty should there be any governmental closures, delays or travel bans specific to COVID-19. 
This trip itinerary is a quotation only and therefore remains subject to availability. I look forward to your thoughts and please reach out if you have any questions or need additional information.
When we've reached the point where you're ready to book, you can simply click on the "Ready to Book" button contained herein and it will walk you through the process of making your deposit payments.
Kind regards,



Dave Redmond, Partner
Epic Golf Travel
david@epicgolftravel.com
YOUR TRIP SUMMARY

TOUR PRICING:

Golfer: $2,44500 USD
Non-Golfer: $1,785.00 USD

DATES:

April/May/September/October 2021

# GOLFERS:

1 Golfer / 1 Non-Golfer

DAYS/NIGHTS
ROUNDS:

7 Days / 6 Nights / 3 Rounds

YOUR GOLF:

3 rounds of golf with prepaid greens. See courses below.

YOUR LODGING:

6 nights lodging at The Glenmoriston Town House Hotel

TRANSPORT:

Chauffeured transfers throughout the entirety of your trip

ITINERARY:

We begin to build a final tour itinerary for you after we've had the opportunity to fully understand your trip expectations. It honestly can't happen any other way if the trip is to be yours, not ours. We work closely with you to create a final itinerary based on your style, pace & tour wishes.

SIGHTSEEING:

The Scottish Highlands, Loch Ness, Donan Castle, Inverness Castle, Fort George, Whisky Distilleries, Urqhuart Castle, Culloden Battlefield, Cawdor Castle & Gardens, Loch Maree, The Clo Mor Cliffs, Cape Wrath, Dunrobin Castle, the Orkney Isles, the Shetland Islands

DEPOSIT:

$605.00 USD per person

TERMS:

Your monies are fully protected from any Coronavirus related issues. Your trip can be rescheduled with no penalty should there be any governmental closures, delays or travel bans specific to COVID-19
| | |
| --- | --- |
| | 6 nights lodging at The Glenmoriston Town House Hotel |
| | 3 rounds of golf with prepaid greens. See courses below. |
| | Chauffeured transfers throughout the entirety of your trip |
| | Full Scottish breakfast each morning |
| | Assistance of Epic Golf Travel's local partners at your UK destination |
| | Destination Travel Pack with useful information on traveling to the UK and areas visited on your tour |
| | All Lodging and Golf Course Surcharges & All Taxes |
| | Unlimited consultation and the full Services of Epic Golf Travel Personnel before, during and after your trip. This includes any questions at any time relating to your golf tour, sightseeing opportunities, dinner recommendations, a group web portal for online deposit and balance payments, arranging all golf, room, caddie and dinner reservations, rental car requests & airport transfer requests. |
| | Epic Golf Travel 24/7 Golf Concierge |
| | Automatic Membership into our Epic Plus Program |
| | Our Gold Star Service Pledge |
This itinerary is subject to availability and is subject to change at any time. In order to secure all aspects of your golf trip a 25% non-refundable deposit reflected above is required, with an additional 25% payment due 120 days prior to travel. The 50% balance is due 60 days prior to travel. Nothing can be held or confirmed until a deposit is received.
This itinerary is subject to availability and is subject to change at any time. In order to secure all aspects of your golf trip a 25% non-refundable deposit reflected above is required, with an additional 25% payment due 120 days prior to travel. The 50% balance is due 60 days prior to travel. Nothing can be held or confirmed until a deposit is received.
Castle Stuart Golf Links is a championship links course overlooking the Moray Firth and well-known landmarks that are synonymous with Inverness and the Black Isle – Kessock Bridge and Chanonry Lighthouse being the most notable.
Surrounding the golfer is a rugged and natural landscape with vast expanses of gorse, broom, heather, and sea marram. The bunkering is characterized more by open sandy areas with pockets of light vegetation than by formally revetted (stacked sod or turf) manicured bunkers. And from some tees and greens, the 1930s style white 'Art Deco'  clubhouse can be seen sitting prominently atop its viewing perch.
All in all Castle Stuart can be described as a throwback to golf as it once was – a simple walk through pleasing natural surroundings with both friends and amazing views to accompany you.
This truly thrilling golf course designed by Old Tom Morris himself more than 100 years ago is absolutely stunning. From the moment you tee off next to Moray's pro shop until you putt out on the elevated final green in front of the clubhouse, you can't fail but fall under the magical spell of what is indisputably one of the world's finest links golf courses that bears comparison with any on the British Open roster.
Keeping it on the straight and narrow isn't terribly easy on this classic links course, as the wind invariably whistles in across the adjacent Moray Firth. Compared to the gorse, the revetted bunkers look almost appealing despite the fact that they are much deeper than your average bunker. And whether you call them nasty yellow bushes, gorse, or by their Scottish name of whins, they are, despite being very pretty in the early summer, best avoided. However, that isn't very easy on the Old Course at Moray, as they seemingly lurk alongside every hole and greedily grab whatever golf ball comes their way.
FORTROSE & ROSEMARKIE GOLF LINKS
18 holes, 71 par, 6,085 yds
There is reference to golf being played at Fortrose & Rosemarkie as far back as 1702, though it was not until 1889 that a formal golf club was. The course was extended to 18 holes by 1924 but it was ten years later before James Braid shaped the links to its current design and Sir Hector Monro opened the revamped course 1935.
Fortrose & Rosemarkie lies on a narrow peninsula jutting out into Rosemarkie Bay and protects the entrance to the Moray Firth. A lighthouse stands at the point, and the road there divides the course in two. There is just enough land either side to accommodate this shortish but testing links course.
What Fortrose & Rosemarkie lacks in yardage is more than made up for with its small, subtle greens, strategic bunkering, dense island gorse, blind approaches and the proximity of the sea at nearly half the holes. And the club has recently proudly hosted two national competitions, the first time the club has ever attracted such prestigious events to the Black Isle.
GLENMORISTON TOWN HOUSE HOTEL
As luxury hotels go, the 4-star city center Glenmoriston Hotel & Townhomes is one of the most respected in Inverness. Set on a tree-lined, river bank terrace close to the center of Inverness, the hotel is within easy traveling distance of all the major links courses, Loch Ness, the Isle of Skye, Culloden Battlefield and many other attractions in the Scottish Highlands.
The hotels accommodations compris 30 bedrooms, three self-contained apartments, an award-winning Contrast Brasserie restaurant and the Piano Bar serving up over 260 malt whiskies and with live music on weekends. Rooms include free wifi and parking and some have a view over the River Ness. The one and two-bedroom apartments have all the luxury and privacy of individual accommodations but with the added benefit of a four star hotel right on your doorstep.
The hotel is just a short walk along the river bank from the center of Inverness, near to the main shopping areas, the train and bus stations and a short drive from Inverness Airport.
By far the largest region in Scotland, the Highlands covers nearly 10,000 sq miles in northern Scotland. The region is home to stunning scenery, including the legendary Loch Ness.
Sporting some the world's most stunning scenery, the region has one of the oldest and most fascinating histories on earth. The Cairngorms National Park lies at the heart of this region, offering everything from stunning hiking routes to ice climbing, skiing, snowboarding and much more.
To the west you will find the magical Isle of Skye, teeming with incredible outdoor spots to explore, including the famous 'fairy pools', the Cuillin mountain range and the 'Old Man of Storr'. The vast landscape has an undulating coastline, wild expanses, rugged mountains and islands, rushing rivers, and conifer-rich woodlands – what more do you need.
The Highlands also feature legendary battlefields, museums packed with rich local history and breath-taking geological wonders, not to mention many famous distilleries and breweries.
LOCH NESS & URQHUART CASTLE
Located an easy (and scenic) 30-minute drive southeast of Inverness city center, Loch Ness is must-visit when exploring the Scottish Highlands. Famous the world over as the home of the Loch Ness Monster, this picture-perfect freshwater lake is also home to one of the country's most iconic fortresses: Urquhart Castle. Although now just ruins, it's easy to picture just how magnificent this castle once was.
In addition to superb exhibits dealing with the castle's rich history, the site also boasts a great café with stunning views over Loch Ness. For more on the mythical beast that inhabits the lake, visit the Loch Ness Centre and Exhibition, with its fascinating displays relating to the monster and the surrounding area.
The Cairngorms National Park, in the heart of the Scottish Highlands, has everything from castles and distilleries to family attractions and endless outdoor fun. The UK's largest National Park offers masses of things to do including watersports, snowsports, wildlife watching, and some incredible high and low level walking and cycling routes.
Experience some of the world's most unique and rare wildlife and landscapes with a visit to one or more of the nine National Nature Reserves in the Park. There are hundreds of miles of paths and trails to explore throughout the park. Five of the UK's six highest mountains lie inside the park, along with the 3,000 ft. Munros  mountains, which can be found here too. There are huge forests of ancient native trees, cascading waterfalls, and more wildlife than you can image.
You can also enjoy some downtime amid the glorious scenery. Why not browse the bookshops and bars in Aviemore or make your way along the Malt Whisky Trail?
CLO MOR CLIFFS & CAPE WRATH
The Clo Mor Cliffs are one of the highest cliffs in Great Britain. From sweeping panoramic views of Scotland's mainland and tumultuous seas to puffins, kittiwakes, and fulmars flying about, standing atop this natural work of art is impressive. The cliffs drop almost 1,000 feet to the beach and the magical Smoo cave... an impressive sea cave guarded by a wondrous waterfall.
Cape Wrath offers remarkable views over the North Atlantic toward the Orkney Isles. It's also one of the wildest parts of the Highlands, full of wondrous geological features and steeped in maritime history. One of the few man-made structures in the area is the lighthouse built by Robert Stevenson in 1827 on the spectacular Clo Mor Cliffs. The area is also popular among bird-watchers, and for hikers, numerous trails crisscross the area, including some leading to lovely Loch Nevis.
Just an hour north of Inverness and on your way to Royal Dornoch stands the imposing Dunrobin Castle. The castle was the seat of the influential counts and dukes of Sutherland who, by the end of the 19th century, owned more land than any other landowner in Europe.
The castle, which resembles a French château and was begun in 1275, has seen the architectural influences of Sir Charles Barry, who designed London's Houses of Parliament, and Scotland's own Sir Robert Lorimer. The castle was used as a naval hospital during the First World War and as a boys' boarding school from 1965 to 1972.
The extensive Italian-style gardens are ideal for a stroll and also offer fine views over the Dornoch Firth. If there's time, you should stay for one of the castle's regular falconry shows. There's also a first-rate tea shop on-site serving traditional high tea.
Fort George was completed in 1769 and is perhaps the strongest fortification ever built in the UK.
Conceived in the immediate aftermath of the 1745 uprising and the Battle of Culloden that concluded it, Fort George was intended to be a once and for all solution to the threat posed by the Highlands to the Crown.
But although the need for it may have gone by the time it was finished, Fort George continues in use and is still operational as an army barracks today, though the Ministry of Defence has announced plans to close it by 2032.
The huge fort covers 42 acres, and was designed to provide all the facilities of a small town. There was a bake house, brew house and chapel, a provisions store, powder magazine and ordnance store.
But perhaps the most remarkable aspect of Fort George is just how little it has changed since its completion in 1769. What remains today is exactly what was existing over 200 years ago.
Lying roughly 100 miles off the north east coast of Scotland, the Shetland Islands are the northern-most tip of Scotland. The islands separate the Atlantic Ocean, on the west, from the North Sea on the east. The islands are made up of around 100 different islands.
The islands have some of the most incredible landscapes in the UK and a Viking heritage second to none. Shetland was awarded Lonely Planet's Best in Europe 2019 as one of Europe's top destinations.
You can explore Shetland's beautiful capital, Lerwick, and wander around the towns quirky lanes made famous in the BBC Shetland TV series.
Explore the seaside and enjoy miles of breathtaking coastline, fringed by towering clifftops, pristine beaches and crystal-clear blue shores. You can also experience spectacular wildlife, including seabirds, seals, otters, orcas and the famous Shetland ponies.
CLUB SHIPPING WITH SHIP STICKS
SAVE 10% OR MORE...
Stop waiting in long lines and wasting precious time at baggage claim and start traveling hassle-free with Ship Sticks. The most convenient and affordable door-to-door shipping service for your golf clubs and luggage. You can ship your clubs in your travel bag, hard case, or a box straight to wherever you're staying or playing. Unlike the airlines, Ship Sticks provides complimentary insurance and stands by their service with an on-time guarantee. You can even save on your car rental costs by traveling light.
To get started, click on Ship Now and fill out the online form. Once you've placed your order you will receive detailed instructions on how to package up your clubs for shipping, including a link to track your clubs in real-time.
In order to secure all aspects of your golf trip a 25% deposit reflected above is required, with an additional 25% payment due 120 days prior to travel. The 50% balance is due 60 days prior to travel.
Golfer: $2,445.00 USD
Non-Golfer: $1,785.00 USD
In order to secure all aspects of your golf trip a 25% deposit reflected above is required, with an additional 25% payment due 120 days prior to travel. The 50% balance is due 60 days prior to travel.
Golfer: $2,445.00 USD
Non-Golfer: $1,785.00 USD